Read our special summer 2023 edition of FH Europe Foundation's Heart Beat newsletter for the latest news and events:
FH Europe is now a Dutch Foundation
FH Awareness Day – People like Us campaign has kicked off!
Explore our advocacy efforts at the Science Summit at United Nations General Assembly (UNGA78)
The Annual Network meeting registration is now open! Secure your spot at the pre-meeting webinars on FH, HoFH, Lp(a) and FCS.
Elsie Evans shares her HoFH journey and transition from being a patient with a rare and severe form of familial hypercholesterolemia (FH) to becoming a leader empowering an international community
FHchol Austria holds an online FCS patient meeting and advocates for FH screening
Bulgarian Patients Forum Federation leaders met with the newly appointed Bulgarian Health Minister
Croí Ireland´s Launch of Heart and Stroke Voice Ireland and Invisible Nation: Spotlight on Cholesterol
Anhet.f celebrating its 10th anniversary!
Global Heart Hub is the newest member of FH Europe Foundation Network and announced the launch of new patient-led research to bring attention to unhealthy cholesterol levels
World Heart Report highlights the need to invest in combatting cardiovascular disease
Research shows that 70% of patients with familial hypercholesterolemia don't achieve LDL cholesterol targets
European Alliance for Cardiovascular Health (EACH) - The European Summit in Strasbourg
Get ready for the World Heart Day!
International Atherosclerosis Society (IAS) publishes guidance for familial hypercholesterolemia care
European Patients Forum (EPF) advocates for EU pharmaceutical legislation addressing unmet medical needs
EURORDIS survey on newborn screening for rare diseases – preliminary results are here!
Upcoming events you shouldn't miss
FH Awareness Day 2023 is about engaging and empowering the wider community in the mission for cardiovascular health (CVH).
The wider picture
Cardiovascular disease (CVD) is a general term for conditions affecting the heart or blood vessels. They include coronary heart disease, cerebrovascular disease, peripheral arterial disease, rheumatic heart disease, congenital heart and deep vein thrombosis and pulmonary embolism[1].
CVDs are the leading cause of death globally, with over three quarters of them taking place in low- and middle-income countries. In 2019, they caused 18.6 million deaths worldwide . It represented over 32% of all global deaths, where 85% of them were due to heart attack and stroke.
The burden of disease continues. In 2019, nearly 400 million years of healthy life (quantified as disability-adjusted life years or DALYs) were lost due to cardiovascular disease (CVD). This marks a 24% increase in the global CVD burden compared to 2000 (316.9 million DALYs)[2].
And yet, up to 80% of CVDs can be prevented[3] , provided the underlining causes can be identified and effectively addressed. In some cases, this means addressing behavioural risk factors such as tobacco use, unhealthy diet and obesity, physical inactivity and harmful use of alcohol. In other cases – like the CVD caused by familial hyperlipidemias, the key lies in early screening, detection and appropriate management (incl. lifestyle modifications and therapies). However, to achieve meaningful results the engagement and collaboration between the wider community of multidisciplinary stakeholders is critical.
FH – a serious CVD risk factor running in families
FH stands for Familial Hypercholesterolaemia and means genetically caused very high LDL cholesterol. It is the world's most common, monogenic condition. This serious CVD risk factor affects over 30 million people worldwide, and 2.5 million people in Europe, of which 500'000 are children. Undetected and unmanaged FH can lead to atherosclerosis and early cardiovascular disease including premature heart attacks and even death. Despite being named by the WHO a Global Public Health Burden over a quarter of a century ago, it is still very poorly diagnosed and ineffectively managed. Based on the available data from the global FH registry, it is estimated that only 10% of the affected people have been identified to date. In other words, 9 out of 10 people with FH do not know they have it and are not appropriately managing their very serious CVD risk factor.
Once FH is appropriately diagnosed and managed, those living with the condition can live a long and "normal" life. Those diagnosed early in childhood adopt easily the new lifestyle, where taking daily medication and adhering to simple rules – no smoking, physical activity and a healthy low-fat diet - are just a part of daily life.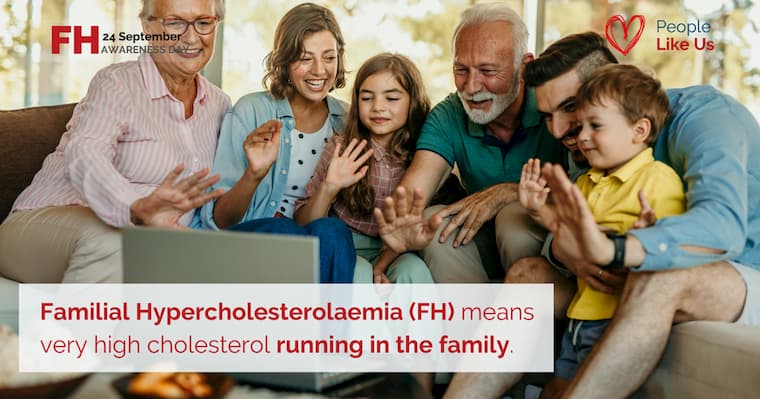 24th September – the international FH Awareness Day
Every year, on September 24th, FH Awareness Day is observed. It takes place 5 days before World Heart Day.
This year, the FH Europe Foundation together with the Network of patient organisations, patient ambassadors, medical experts, supporters, and friends is engaging the international community to raise awareness, educate and to advocate for a change which has the potential for a tremendous shift – from cardiovascular disease to cardiovascular health.
FH Europe Foundation is embarking on a three-pronged approach to drive awareness for FH Awareness Day. Providing three very different yet complementary elements allows us to reach a wider audience.
"People Like Us" – changing the way we think of FH and the people living with it
The theme running throughout the whole FH Awareness campaign is meant to put the people with FH at the heart of all activities. "People Like Us" is about stories told by patients, and images of real patients. Over the course of one month they will be educating, advocating, sharing. Starting with the social media campaign People Like Us, explains that FH is an invisible disease, and it doesn't matter who you are, what you look like, your age, gender, or ethnicity. You can be affected if you inherited it. A toolkit with basic social media assets, building on simple messages, scientifically validated, and using images of everyday situations and people including the patients from the FHEF network aims at addressing wider, international public. The campaign has been translated into 13 languages and is being shared from August 24th on social media in collaboration with the Network members across Europe, and organisations in South America, Middle East and Australia.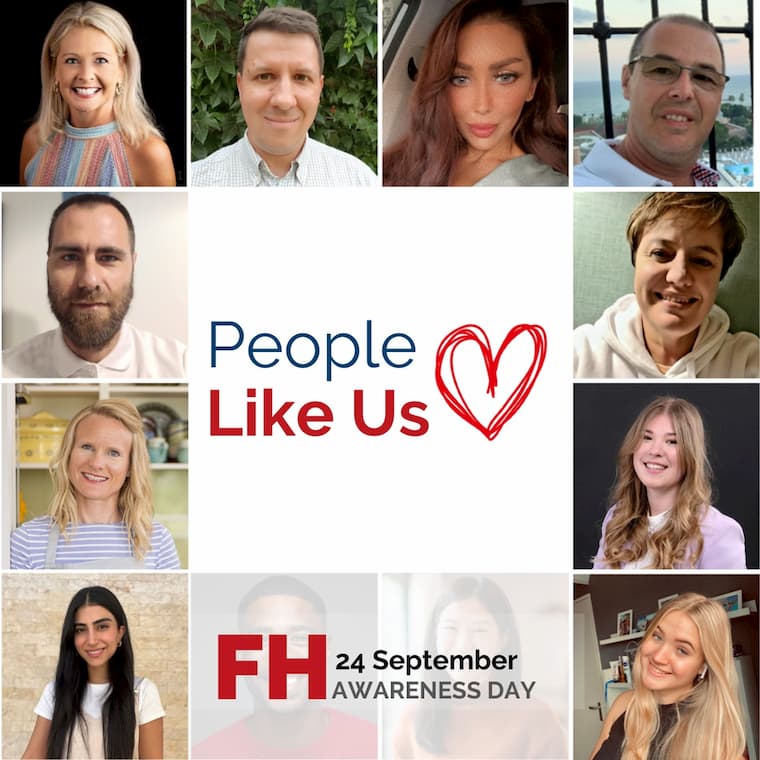 Reversing the traditional order – FH patients educating clinicians
This year, for the first time, FH Europe Foundation is collaborating very closely with the European Atherosclerosis Society (EAS) on an unconventional educational programme aimed at the international members of EAS community. For the duration of a week, a series of 5 webinars of 30min, will be hosted live with patient ambassadors and advocates partnering with researchers and clinicians as speakers and moderators. From topics of Genetics, Combined testing for other CVD risk factors (elevated Lp(a)), Access to novel treatments, to more unusual ones like focusing more on social sciences and policy like Screening and the EU CVH policy, Challenges faced by children with FH – the medical community will be exposed to new learnings …through the lens of the patients and citizens.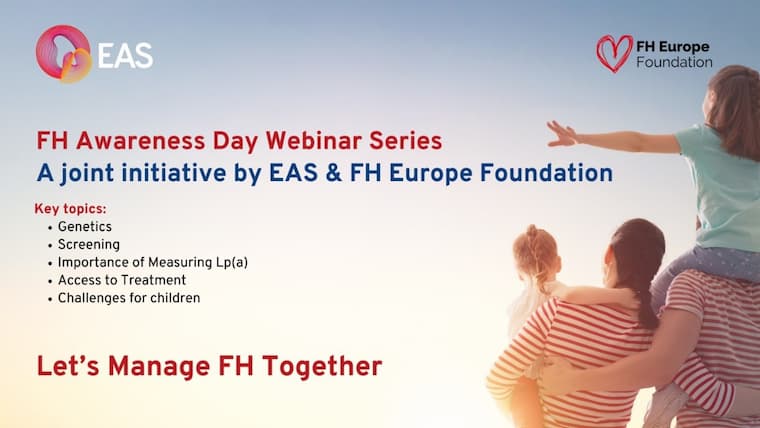 Gender bias is seriously affecting women with FH
On 21st September, FH Europe Foundation will be hosting a webinar with 7 international female panelists (why not?). The discussion, rather than a series of slide presentations, will be moderated by a Patient Ambassador, living with FH and elevated Lp(a). Among the 6 female speakers is the leading researcher and advocate for greater research about women and CVD/FH/pregnancy. She is a young generation champion researcher and clinician from Germany, combining her experience to inform better health policies. We have 4 female patients and fierce advocates who between them have a number of misdiagnosed heart attacks, experienced gaslighting in the interactions with clinicians and the community. Make sure you join them by registering now. The topic of the webinar "FH and the gender bias - misdiagnosed and under treated".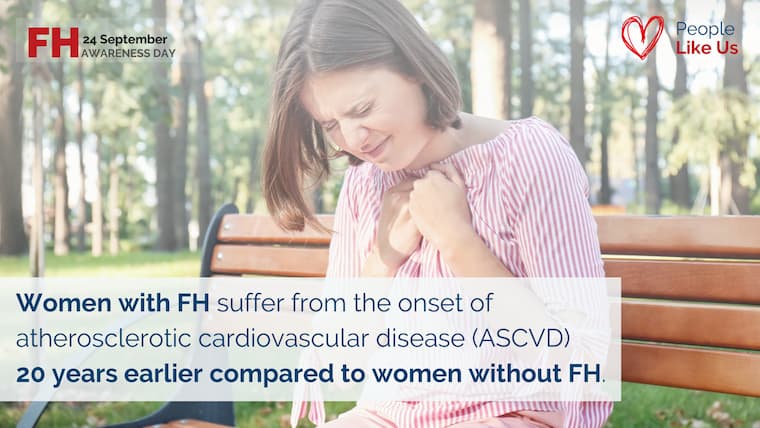 Many biases exist in the healthcare system including the mistaken belief that women are more protected from heart disease due to oestrogen levels. In addition, FH is commonly misunderstood, and standard risk calculators do not take into consideration the increased risk of FH due to lifelong high cholesterol. The onset of atherosclerotic cardiovascular disease (ASCVD) occurs 20 years earlier in women with FH than in those without FH.[4][5]
The combination of the social media campaign and the webinar is meant to help relaunch a dedicated 'Women and FH Survey', as the existing research and data gap on how FH affects women, their family planning decisions as well as health pre-, during and post pregnancy is enormous. The survey is available in 16 languages, and the goal is to collect 1000 responses.
Big impact requires policy and implementation
This September, it will be one year since the publication of the of Prague Declaration on Achieving FH Paediatric screening across Europe[6]. The high-level policy document, launched under the Czech EU Presidency as a result of a Senate meeting in Prague in 2022, was endorsed by the Czech Ministry of Health. It built on recognition of the European Commission of FH Paediatric Screening as a Public Health Best Practice and the high-level technical meeting from 2021, under the Slovenian EU Presidency, which led to 2 scientific publications.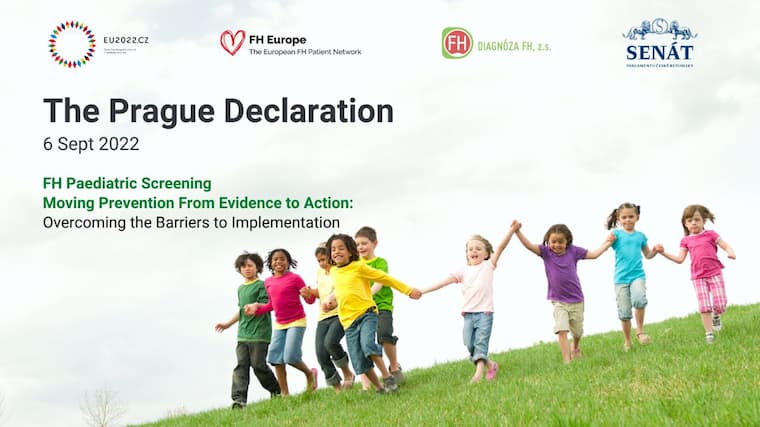 The Prague Declaration has been presented across Europe, in various scientific and policy and advocacy meetings. It even made its way to the National Lipids Association meeting in the USA. To date is has been endorsed by over 100 individuals including EU politicians, scientists, medical experts, patient organisation leaders and individual patients plus over 60 organisations from the World Heart Federation, the European Alliance to Cardiovascular Health, the European Public Health Alliance and European Connected Health Alliance to international medical societies, national patient organisations and medical universities[7]. It serves as a blueprint for FH screening programs and national CVH Plans in Czechia, Austria, Bulgaria, Cyprus, Poland, Germany, France, Spain.
The impact of the Prague Declaration and related advocacy and policy influencing in the space of FH early detection and CVD prevention has been recognised and appreciated internationally, offering bigger opportunities and possibilities, leading to a paradigm shift from Cardiovascular Disease towards a global concept of Cardiovascular Health (CVH).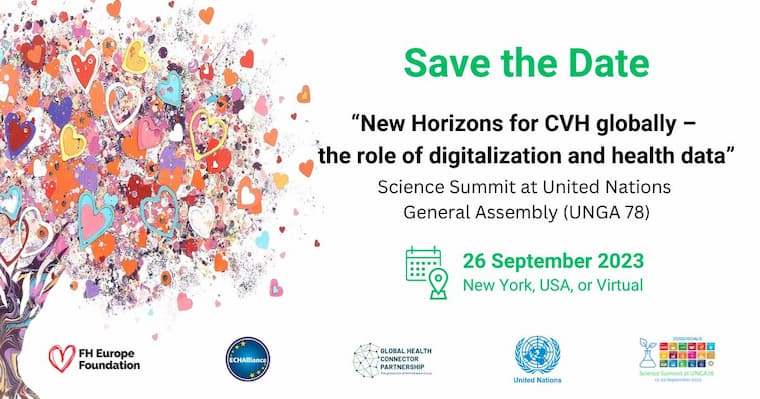 And so, the FH Awareness Day efforts will conclude at the United Nations General Assembly (UNGA) Science Summit[8] in New York, on September 26th, where the FH Europe Foundation team will be addressing an international multidisciplinary community, talking about innovation, health data and digitalisation in the context of improved FH screening, CVD prevention implementation in very specific terms, referred to in the document, and unquestionably contributing to the CVH promotion on the international and national level. (You can register here to join online or in person).
---
Medical experts and patient advocates recommend screening, genetic testing and patient-centred treatment plans for genetic form of high cholesterol known as familial hypercholesterolaemia (FH).
Amsterdam, July 20, 2023 -- New guidance from medical experts at the International Atherosclerosis Society, in collaboration with patient advocates, presents new clinical and implementation strategies for treating the 35 million people worldwide living with familial hypercholesterolaemia, a genetic form of high cholesterol commonly known as FH. The guidance, published on June 15 in the top-rated scientific journal Nature Reviews Cardiology, includes strategies for addressing FH, including its severe form homozygous FH (HoFH).
The guidance identifies several critical elements of FH care:
Screening achieves early detection of FH, and applying a person-centred, multidisciplinary approach can help clinicians and patients manage FH. Heart disease leading to serious cases of FH can start early in life, even in childhood, so integrating different screening strategies and training all health care providers is essential. Identification and management of FH can ultimately prevent cardiovascular disease onset and help drive population-based cardiovascular health.
Genetic testing should be made universally available, and practices should be aligned, standardized, and integrated with both local legislation and policy and the broader health care community. Genetic testing is the most accurate way to diagnose FH, but such practices are currently expensive and not readily available. This guidance recommends increasing awareness of counselling, genomics and screening of relatives for FH.
Treatment plans should be patient-centred, focus on risk-reduction practices, improve quality of life and start as early as possible. They should also include guideline-directed strategies from peers and the wider health care community. Clinical trials and studies show that managing lifestyle and beginning cholesterol-lowering treatment at an early age maximally reduces the burden of FH.
To increase availability of lipoprotein apheresis, this guidance recommends centralized units, communication channels and a wider community within which to share expertise on apheresis. Lipoprotein apheresis by absorption is safe and effective, but it is not universally available or used. Infrastructure to make apheresis more widely available is required to treat patients with HoFH, the severest and less common form of FH.
The International Atherosclerosis Society's initiative to update the procedures and model of care for FH is in response to an international need for more comprehensive treatment strategies. It is also one of very  few guidance in the space of FH, which proactively engages patients and patient advocates to reflects their needs and recommendations.
Statement from Peter Libby, MD, President, International Atherosclerosis Society and Co-author:
"FH, a relatively common condition, is widely underdiagnosed and undertreated. To address this gap, IAS assembled an expert team to generate guidance for practical implementation of best practices in the care of those with FH. This document deals with the scope of the problem, the detection of FH, practical and evidence–based management recommendations, and strategies for the implementation of care. It aims to be of general use to the broader cardiovascular and primary care community. This publication represents an international cooperation under the auspices of the IAS, and advances our mission of reducing atherosclerotic cardiovascular disease worldwide."
Statement from Magdalena Daccord, Chief Executive of FH Europe Foundation and Co-author:
"This is a landmark publication for people living with FH and those providing medical care for them. It brings together world medical experts and patient advocates to produce a very comprehensive document, which is person-centric, with patient/person voice embedded in the content and in the implementation strategies. It goes beyond being a medical guideline, however, as it serves as credible support for advocacy and policy influencing activities which will help us all move from cardiovascular disease towards cardiovascular health in people with FH and HoFH."
Statement from Raul Santos, MD, Co-Chair of the guidance and Past President, International Atherosclerosis Society:
"FH, which is frequent and untreated, is associated with very high risk of atherosclerosis and coronary artery disease. It should be diagnosed and managed from an early age. This IAS document provides the best evidence-informed clinical and implementation strategies for the cost-effective care of all patients with the condition. The guidance was developed by a team of leading experts and aims to achieve the greatest good for the greatest number of people with FH across all regions of the world."
Statement from Gerald F. Watts, MD, Co-chair and corresponding author of the guidance:
"FH is a preventable cause of premature disease and death due to coronary heart disease, with substantial effects on public health. This IAS guidance addresses major gaps in the care of FH and uniquely employs implementation science to better translate evidence into practice. This should result in maximal benefit for people and communities. Because of differences among countries, a contextual approach will be required for implementing the recommendations."
To make the best use of this new guidance, there must be a push towards adapting and integrating these practices into health care systems, policies and wider communities built on advocacy, and peer-related support.
Read the IAS guidance for implementing best practice in the care of FH here.
The International Atherosclerosis Society is a federation of member organizations worldwide whose basic missions are to promote the scientific understanding of the etiology, prevention and treatment of atherosclerosis. The IAS exists to coordinate the exchange of scientific information among the constituent societies, to foster research into the development of atherosclerosis, and to help translate this knowledge into improving the effectiveness of programs designed to prevent and treat this disease.
ELSIE EVANS
Meet Elsie Evans, known to her friends and family as Cindy. Elsie is a dedicated teacher, working in schools for special needs children. She is also FH Europe´s Ambassador Program Manager, a volunteer at HEART UK, a technology enthusiatst, loves to travel and is a great coffee lover. She is also rare disease advocate and patient living with HoFH.
She was diagnosed with the rare and severe form of inherited high cholesterol in her early childhood, when she was three and a half.  Ever since, it has been a challenging journey with healthcare, but new treatments are improving the situation.  A new medication trial has been a game-changer for her, and she is passionate about educating others about the condition. Volunteering with HEART UK and being involved with FH Europe, she hopes to create a community where patients can support each other and improve their well-being.
This is her story:
"Hello, my name is Elsie Evans, known to my friends and family as Cindy. I was born in South Africa, but have been living in the UK since 2000.
I have been in the education field for over two decades now, serving as a special education teacher in secondary schools for most of that time. Presently, I am an assistant headteacher in a primary school for special needs children. At 47, I have gained quite a bit of experience working with children with Autism Spectrum Disorder, and I find it very fulfilling. One of my most memorable experiences was leading my students on a special ski trip to Italy as part of the Surrey Special Ski initiative.
I was born in South Africa, where I received a diagnosis at the age of three. A GP was removing skin warts when he observed that they were not going away and referred me to a lipid specialist, Prof. Harry Seftel. When I was checked, my cholesterol level was 27. Mom was informed I wouldn't live past the age of 11, and there's no current treatment (more than 40 years ago).  I was given Questran and assigned to the Johannesburg research department. I was far too little to remember most of this, so it was up to my mother to cope with it all.  She did it with the fearlessness of a lioness (other animals available: D), regardless of knowing that they had advised her that my prognosis was poor.  I recall visits to the hospital, we would be there for an entire day, but she always came equipped with activities to keep me occupied.
I recollect going to parties with my personalised party pack.  I think about battling with school when I required time off as they didn't understand that I didn't look sick.  I recognise still accomplishing everything I set my mind to because I had the encouragement of my family.  I recall being frustrated when I couldn't do certain things. I know as a teenager I protesting against medication, as everyone does (anyone who has ever taken Questran would understand).  So there were a lot of hospital visits, blood tests, medication administered, and new treatment news highs and lows when they did not work or were not made available.
Thanks to a new medication, I no longer need weekly apheresis, which has made travelling and working much easier. To avoid any side effects and prevent liver conditions related to the medication, I have to follow a strict low-fat diet. While this can be challenging, I have become skilled at managing it over the past few years. I stay active by taking regular walks and having routine check-ups with my medical team every three months to monitor my levels and cardiac health. Recently, I realized I need to start planning for my retirement, which made me feel like a responsible adult. As we continue to explore more treatment options, I hope that healthcare providers will consider our overall well-being as patients.
My journey in advocacy began with my mother's passion for finding and fighting for better accessible treatments. She has been doing this for more than 40 years, and it's an impressive feat. My journey was a passenger but that changed when I was approached with a new treatment and decided to give it a try. It was a great decision and led me down a path of sharing my story and becoming involved in advocacy work. I am now working with FH Europe to help educate ambassadors about the conditions we advocate for and how to work with various stakeholders. I believe that to make a difference, we need to have a strong understanding of what we are advocating for and how to effectively communicate our message to others. By building our knowledge and understanding, we can work together to make a positive impact not just for ourselves, but for our wider community as well.
For several years, I had kept my life in separate boxes until I was introduced to a new treatment. As a result, I was asked to share my story which marked the beginning of my journey towards managing my condition, stopping weekly apheresis and getting back to things I love doing, also on a personal talking to others and actively being involved with this community.   I strongly believe that we can achieve our goals only if we work together as a team and gain a better understanding of how different aspects of our lives affect our community as a whole and understand that each will have their journey and story to tell.
Some of the biggest struggles I have faced is not looking sick.  It can be incredibly challenging to deal with an invisible illness. People around you may not fully understand the extent of your condition, and it can be difficult to explain it to them.  Sometimes, it can be tempting to pretend that you are not dealing with a serious medical condition when others cannot see it.  It became reality when suddenly I had more cardiac events, needing angiograms and stents, weekly apheresis, etc on top I then had to have more conversations with people around me, friends, and managers at work.
This was one of my biggest hurdles to overcome.  I find it difficult to cope with slowing down and being a patient, but my physical limitations have made it necessary. Ageing is a natural process that affects everyone, including those with underlying conditions. However, it has brought to light some issues that could have been prevented with better management.  The use of apheresis is restricted, medications are costly, and research and development tend to prioritise care after an event instead of preventative measures such as early screening to minimize harm.
It's incredible to see how rapidly things are changing. There is ongoing research into new treatments, and in the last six years, there have been more breakthroughs than I have witnessed in my lifetime. This gives me hope that future generations will have more support and be able to manage their conditions without it greatly affecting their daily lives. I anticipate seeing how personalised treatments evolve into practical approaches that prioritise the quality, rather than just the quantity, of life.  I look forward to a future where there won't be a need to advocate or share our stories. However, until then, we will still be here to support and advocate for those around us. I have a positive outlook on the future and intend to consistently show kindness to those in my life. I am eager to experience all that life has to offer, from travelling to new places to meeting new individuals and hearing their fascinating stories."